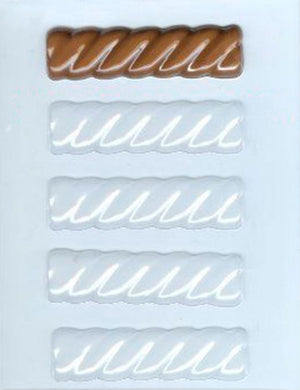 Twist Chocolate Bar Mold
The Twist Bar Candy Mold is great for any occasion. This chocolate bar mold is the perfect size.
5 cavity twist bar candy mold, makes 5 chocolate bars at a time.Each candy bar measures approximately 4-1/2" X 1-1/4" wide and 1/4" deep.Each bar uses 3/4 oz of chocolate or candy melts to make. 
Chocolate molds can also be used for concrete crafting, plaster, and soap making. 
This chocolate bar isn't ideal for filling with a cream center filling.
Do not use chocolate molds for making hard candy making with hot sugar or other high-temperature ingredients. 
Hand wash with warm water and mild soap, hand dry immediately with a paper towel.
Do not put chocolate molds in the dishwasher. Made In the USA.