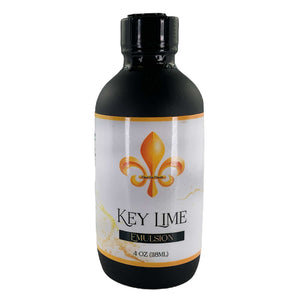 Fleur De Flavor Key Lime Emulsion 4oz
Use this professional strength flavoring in place of extract for any recipe. For baking one teaspoon of emulsion equals to one teaspoon of extract. 
 Store sealed, in a cool, dry place away from direct light
*This product is prepared and packaged using machines that may come into contact     with Wheat/Gluten, Eggs, Dairy or Dairy Products, Peanuts, Tree Nuts and Soy.
Ingredients: Water, artificial and natural flavor, gum, soybean oil, sodium benzoate  This item is non-returnable.