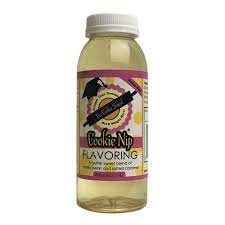 Cookie Nip Flavoring 8 Fl Oz
Cookie Nip is a butter sweet blend of vanilla bean and salted caramel.  Can be used in cookies, cakes, frosting, fondant, candy, muffins, ice cream, pancake mix, coffee, bread, cheesecake, and so much more.
Replace teaspoon for teaspoon for any recipe calling for vanilla. 
Ingredients: Glycerine, Propylene Glycol, Water, Natural and Artificial Flavors, Xanthum Gum, and Potassium Sorbate.*
Some ingredients are produced in a facility where nuts may have been present.
2 year shelf life. 
This item is non-returnable.